SEO is an abbreviation of "search engine optimization" - in Bulgarian "search engine optimization". This is a practice of increasing both the quality and quantity of traffic to your website and promoting your business, brand or website through unpaid (also known as "organic") search engine results.
It's about understanding what people are looking for online - the keywords they use, the answers to the questions they are looking for, and the type of content they want to consume.
SEO optimization has two sides - one is to know what your audience intends, and the other is to deliver it in a way that search engine robots can find and understand.
You can see the main elements of SEO in the picture below.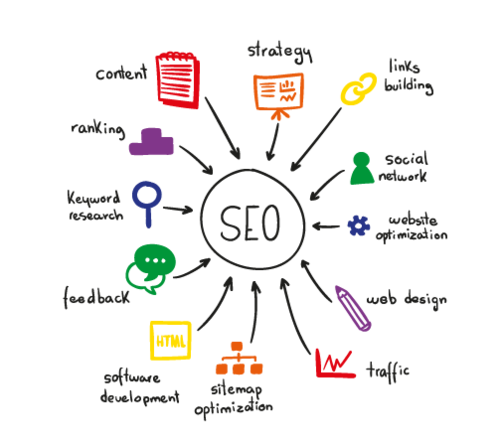 How do search engines work?
Search engines are answering machines. They search billions of pieces of content and evaluate thousands of factors to determine which content is most likely to answer the query you entered and want to find.
The process of searching and finding content on the Internet is called crawling and indexing.
Which search results are "organic"?
As we said earlier, organic search results are those that are earned through effective SEO, not paid for (ie do not come from ads).
Why is SEO important?
It is clear to all of us that paid advertising, social media and other online platforms can generate traffic to our website - Yes, this is true, but most online traffic is driven by search engines. Organic search results have a much wider reach and seem much more reliable for reasonable searchers and therefore receive many more clicks than paid ads.
SEO is the only online marketing channel that, when set up correctly, can continue to pay dividends over time. While paid advertising needs constant funding to be able to send traffic to your site.
Optimizing your site will help you provide better information to search engines so that your content is properly indexed and displayed in search results.
Finally, keep in mind that search engine optimization takes time to trigger its magic. You will not experience the benefits of SEO overnight. In fact, it can take months to enjoy the results of your hard work. Creating quality content that focuses on helping your visitors is the best way to build a sustainable online business that will continue to drive new organic traffic to your site in the years to come.
Interested in learning more about how SEO optimization can work for your business? Want to build a well-optimized site? If you're not happy with your current search engine rankings, it may be time to contact our talented team,which provides quality SEO services that will help you improve your site's ranking on Google and attract more relevant organic traffic.